The Inland Empire: Toward a More Humane Metropolis
January 24, 2008 - Riverside, CA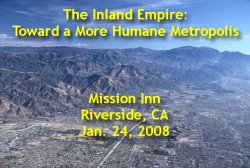 Four-fifths of Americans now live in the nation's sprawling metropolitan areas, and half of the world's population for the first time is now classified as "urban." As metropolitan regions become the dominant living environment for humans, there is growing concern about how to make such places more habitable, more healthy and safe, more ecological, and more equitable --- in short, more "humane."
The diverse strategies in progress to achieve more humane cities and metro regions are explored in the recent book edited by Rutherford H. Platt: The Humane Metropolis: People and Nature in the 21st Century City (University of Massachusetts Press in association with the Lincoln Institute of Land Policy, 2006, including a 22-minute DVD also entitled "The Humane Metropolis). Such strategies include urban stream and wetland restoration, urban gardens on vacant lots and school sites, promoting healthful outdoor activities (e.g. rail trails), brownfield reuse, environmental education, and designing people-friendly parks and public spaces,green buildings and roofs, among other approaches.
The Humane Metropolis™ is now the focus of a series of regional workshops or small conferences sponsored by the Lincoln Institute in collaboration with Dr. Platt which began with "Pittsburgh: A More Humane Metropolis" in that city on March 23, 2007. Future cities are under consideration at this time, including Riverside, CA, Baltimore, Houston, and the Twin Cities.
As in the Pittsburgh event, each Humane Metropolis Workshop will involve practitioners, researchers, and activists, and will provide much opportunity for informal networking. Each program will be tailored to the issues and approaches relevant to to the city and region in question, as guided by local input in the planning process. A few speakers from other parts of the country will be invited who have significant experience to share. NGO staff and interested students are particularly welcome.
The broad objectives of the workshops are to:
Review the status of Humane Metropolis-related initiatives in the host city and metro region;
Promote synergy among local activists, citizens, practitioners, and public officials;
Share relevant experience from other cities;
Stimulate new energy, ideas, and collaborations.
More information:
Download the Conference Program: [PDF] [DOC]